A2 colors born in 2008, Hand college roommates, and friendly, Nieves Torres Y Raquel Martin. The circumstances of life made, after years of work experience for separated into different companies and agencies, both coincide in a small studio, which forged the birth of their full service agency with creative solutions and design, with everything needed to help SMEs to communicate.

"It was the moment, we were prepared, and the company began to take shape, with the idea of ​​bringing the design to small businesses ", Nieves explained Martin and Raquel Torres. "We serve SMEs what we do best: design and sell; We bring our training and experience in the fields of graphic design, communication and advertising ', add these two entrepreneurial, graduates in Advertising and Public Relations from the University Nebrija.
The origin of A2Colores
A2Colores the idea is to understand what the SME large companies already know: the bet by the image and communication is, just that, an investment. a significant investment, reporting benefits of brand growth and strengthening of the company.
"Make them understand that in today's world, the image is fundamental for sale, and that a company should take care of all the elements that compose, their cards, the web, Company presentations, and that care will be rewarded translated economic benefits ", in the words of the creators of A2Colores.
So they begin their first steps, in a small office near the vallecana, and hence Madrid Avenida de la Albufera. logos, corporate image manuals, flyers, catalogs and many annual and scientific reports are part of the beginning.
"Among our first customers there were many associations and scientific institutes', remember both entrepreneurial. «In a time when research centers yet have budget, and yet the design was not seated on them, the results of our services spread like wildfire in the "small" scientific community, and in a few years working for various centers such as the CNB, the CBM, the Cajal Institute, the ICV…».
---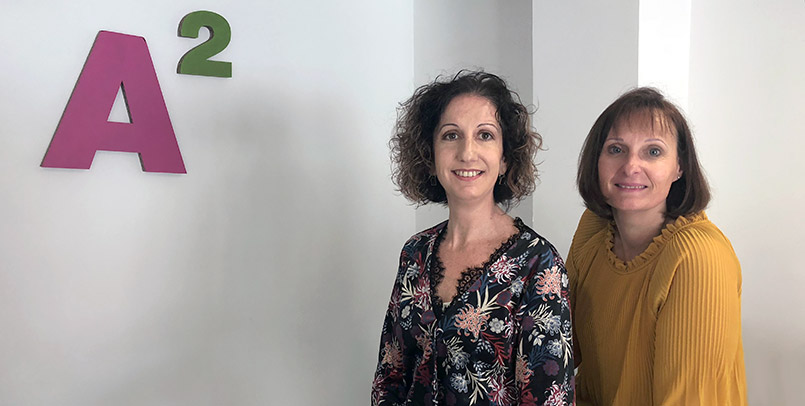 ---
multiple solutions
But besides the scientific reports, A2Colores also developed Internet pages, "Even with a primitive html language and always" Bouncy "flash", Raquel Torres and reminisce Nieves Martin. "Stands for fairs, magazines for associations… also started printing and production work, offering our customers more comprehensive services, They are ranging from the conception of the work to its final print or assembly '.
Despite being talking about the early years of the crisis, the trust that these first customers in the agency, and recommendations, A2 color begins to grow. Housing incorporating Aliseda (popular Bank) among its customers is an important boost for the firm. "We started doing work for them retouching, preparation of building specifications and drawings for one of your web pages. Your satisfaction with our services leads them to entrust their entire Editorial Department Web Content, happens to need a person get to have exclusive, for certain projects, until 12 professionals solely dedicated this client. Our business is off by incorporating multiple people to team. This first major corporate client gives us peace of mind we need ".
Services with content editing A2Colores also performs for them other graphic design work: journals, material for fairs, interactive digital publications ... and opens the door to work for other clients in the property sector, which will be major customers for years: Via Célere, Gestilar, Camporroso, Garlic Mustard are some who are still relying on the full service agency of these two entrepreneurs.
---
---
Ten years… and one day
A2 colors is a living study, dynamic and well aware of the changes and developments in market needs. For that reason, what began as a business project very focused on editorial and graphic design has evolved into a full service agency, where important aspects are working in the current communication and digital marketing, UX web development, SEO positioning, communication in social networks…
This has been possible thanks to constant training and the gradual incorporation of different professional profiles (conmunity manager, SEO specialist, Web designer…) that make today A2Colores is a multidisciplinary team with extensive capabilities work, we offer comprehensive design and production. "A very creative team, with the same enthusiasm of the first day and 10 years of experience behind us ", Martin and conclude Raquel Torres Nieves.
---
You can learn more about A2Colores in their Web page.