He last 15 December held Christmas dinner annually organized by the official College of graduates and technicians of Telecommunication engineers (COGITT), that on this occasion took place at the Hotel NH Eurobuilding Madrid. During the ceremony the traditional awards were given to the 25 Y 50 years of profession, así como el Premio Excelencia al Impulso de las TIC y los Premios Liberalización de las Telecomunicaciones a los mejores trabajos Fin de Grado realizados por Graduados en Ingeniería de Telecomunicación en España durante 2017.
El jurado de la Comisión Permanente de la CODIGAT (la conferencia de directores y directoras de escuelas con grados de ingeniería en el ámbito de telecomunicación), la responsable de Universidades del Colegio, Ascensión Giner Lasso y José Javier Medina, se reunieron semanas antes de esta Cena de Navidad en la Universidad Politécnica de Madrid para elegir a los alumnos galardonados con este prestigioso premio.
El primer premio a los mejores trabajos Fin de Grado en Ingeniería de Sonido e Imagen fue para Víctor Francisco Martín Martínez, de la Escuela Politécnica de Cáceres (Universidad de Extremadura). En el apartado de Ingeniería Electrónica de Telecomunicación, el premio fue para Miguel Ángel Gambín Bustamente, the Superior technical school of d´Enginyeria of the University of Valencia. Telecommunication technologies, mention of telematics, the award went to Pablo Roldán Varona, of the Superior technical school of Industrial Engineering and telecommunications from the University of Cantabria. At last, the prize of telecommunication technologies, mention of telecommunication systems, went to Nuria Sánchez Herrera, Polytechnic University of Cuenca (University of Castilla La Mancha).
Then, our Dean, Mario Cortes, Garcia handed over to boost ICT Excellence Award to Rosa, President of Siemens (in the opening photo). The jury highlighted his entire professional career at the forefront of relevant posts and strategic projects of multinational companies in the sector of electronic communications, as Microsoft, demonstrating a professional profile of excellence, autonomy and rigor copies. Also, el jurado señaló su acreditada vocación de entrega a las Tecnologías de la Información y las Comunicaciones defendiendo proyectos de innovación en entornos multidisciplinares, involucrados en la digitalización, la orientación a los usos ciudadanos y a la sostenibilidad ambiental, económica y social.
Los miembros de la Junta de Gobierno del COGITT y los decanos de las distintas demarcaciones del Colegio repartieron los galardones a los compañeros que celebran en 2017 sus 50 Y 25 años como ingenieros técnicos de telecomunicación. A todos ellos se les entregó un trofeo distintivo en homenaje a sus carreras profesionales. Cabe recordar que los Premios Liberalización de las Telecomunicaciones que otorga cada año el Colegio Oficial de Graduados e Ingenieros Técnicos de Telecomunicación es un homenaje al día en que España se integró plenamente en la normativa europea en Telecomunicaciones (1 December of 1998), una efeméride estratégica en el sector, ya que ha contribuido al progreso de las TIC en nuestro país y de sus profesionales.
Jóvenes promesas
Durante la cena también se entregó el Premio Liberalización de las Telecomunicaciones mención Doctor 2017, que fue para Fernando Carrió Argos, de la Universidad de Valencia. El título de su tesis es: «Development of Readout Electronics for the ATLAS Tile Calorimeter at the HL-LHC», que se desarrolló en la Organización Europea para la Investigación Nuclear (CERN) en Suiza, como parte del proyecto «Phase II Upgrade» del experimento ATLAS para el High-Luminosity Large Hadron Collider.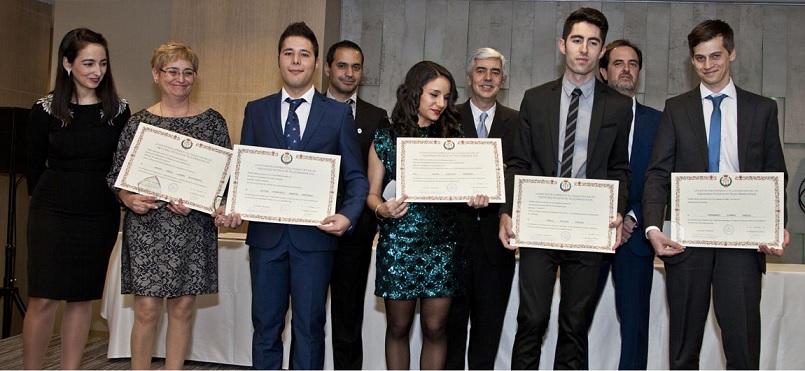 En la foto que ilustra esta noticia posan los agraciados con estos galardones. De izquierda a derecha: Ascensión Giner (responsible for universities in the COGITT); Paula Marzal (Director of the technical school d´Enginyeria of the University of Valencia), He collected the diploma of Miguel Angel Gambin, Since he could not travel to Madrid; Victor Martin; Nuria Sánchez; Paul Roland; and Fernando Carrió (Doctor Award 2017).
---
For more information, visit their web or call the phone 91 536 37 87.